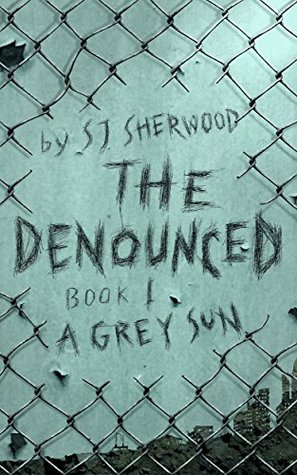 Title:  A Grey Sun
Series: Denounced #1
Author: SJ Sherwood
Publisher: Blue Ned Ltd.
Published Date: November 16th, 2017
Genre: Dystopian, YA
Page Count:238
Format:  Kindle

My Rating: ★ ★ ★ ★.5
Goodreads Summary: 
In a future divided into Secular and Non-Secular Quadrants, a crime punishable by death is to cross Quadrants and become a Denounced. When sixteen-year-old Ned is wrongly convicted and kidnapped to a secret location, he meets ninety Denounced, and a terrifying truth begins to unfold — one that will change the world forever. Forced to lead a Pod of five, Ned begins to realize thousands of lives could depend upon him. A survivor by nature, he now has to face his past, confront his destiny, and fight a System that has never lost. 

 ———————————————————————
My Review

Thank you to the author for a copy of this book in exchange for my honest review.
"In less than an hour my life will end."

This book really reminds me of a cross between the Flawed Duology and the Maze Runner series. It took my favorite parts of those two series and mixed them together. If you all remember I really wasn't the biggest fan of the Maze Runner series, I loved the adventure of it, but certain things I just didn't like. This one takes the adventure of the Maze Runner series, and adds in the political and the strongness of the main characters like the Flawed duology had.
Ned has been ruled Denounced and is sent with a lot of other teenagers to a compound where they are prisoners being trained for something. But what they have no idea, besides guesses that two of them start making as time goes on. We have five different people that are in Ned's pod that he is the leader of two that are completely new to this type of system and two that are used to being in this type of system and are very on edge about certain things. Having this balance was really nice because we have the hopefulness of the two that are new and the realness of the other three that are leery of things that are happening and always trying to figure out the next big thing.
Overall I really loved this book. I've kind of been staying away from dystopian books after having read so many of them at once. The type of dystopian I enjoyed has also changed and now I like ones that have political intrigue, which this one kind of does. I definitely think if it keeps going the way it is that the next one in this series will be even more political.
I loved how the group had disagreements and then would come back together and work together. Seeing them grow as individuals and as a group, I really liked seeing. While Ned is the focus of this story, we also get to see the others pov through his eyes and learn about them as the story goes.
How this world was set up felt very familiar to me in certain ways, but it also had it's own elements as well.
The people watching the children we never really get to know obviously besides one, and mostly we extremely dislike them. As for the head person in charge of this whole operation, I never trusted them and they definitely gave me vibes of other villain types we've seen in dystopian novels. I'm interested to see what happens next with this person and if they turn out to be kind of good or just full out bad.
I can't wait to see what happens next for these characters, but I also feel like it could work as a stand-alone if that's how you want to read it.